Rewriting is the essence of writing.... Professional writers rewrite their sentences over and over and then rewrite what they have rewritten.
—William Zinsser, On Writing Well:
The Classic Guide to Writing Nonfiction
About Joyce Gram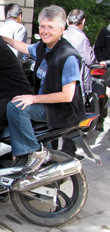 When I was a fourth-year psychology student at the University of British Columbia, a professor returned one of my assignments with copy edits scratched all over the first two pages. At first I couldn't figure out what he had done. These weren't the usual comments about flawed reasoning, unsubstantiated assertions, and nonsensical conclusions. They were changes to my words and sentences: deletions, rearrangements, substitutions. I had to read them several times to get his point, but then the light went on. These pages of my thoughts and my arguments were vastly improved—someone might actually want to read them!
That, unbelievably, was the only time in my nineteen years of formal education that a teacher showed me how small changes and corrections could make my writing more pleasurable to read. It had an impact, and ever since, in one form or another, I have been editing my own and others' work. I like it better than the writing itself. Editing is the stage when your writing really becomes good, when you can start to look forward to showing it to someone, when you can sit back and ask yourself—rhetorically and with pride—"Wow, did I write that?"
I went on to use and improve my writing and editing skills in a variety of milieux: as a lawyer, where I gained a bit of a reputation for dumping legalese for real English; as a volunteer for parents in public education, where I was appreciated for my translations of edubabble; and as a contract writer and editor for nonprofits and ministries in the education sphere, where my knack for rephrasing without rewriting was often met with a dumbfounded "How do you do that?"
And through the latter part of all this I wrote—mainly short stories, articles, poetry—while attending the world's best writers' group, the Kyle Centre Creative Writers' Workshop in Port Moody, B.C., led by writer-poet-teacher Eileen Kernaghan and attended by a talented, eclectic, and ever-changing bunch of published and unpublished writers. I credit this group for my editing career—without them it would not have happened. And after twenty-two years as a student, I moved to the head of the table and now lead one of three groups formed by popular demand. I am so fortunate.
I love this work and I love getting better at it. I read style and usage guides for fun, and my personal library of books on writing and editing threatens to absorb my profit. Before the pandemic, I would ride public transit an hour and a half into the big city to spend a sunny Saturday at a course on punctuation. Now I'll do it happily on Zoom. And, most fun of all, I will share my opinions on the minutest of minutia with anyone.