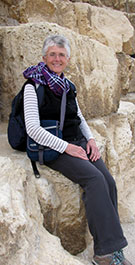 If you write fiction, nonfiction, or creative nonfiction, I can help you perfect your manuscript. I have worked with experienced writers with several books under their belt, with new writers looking forward to their first publication, and with writers who don't really want to be writers at all but have to produce good stuff. I have worked with novelists, memoirists, inspirational writers, how-to writers, historians, academics, teachers, students, and business people. I promise you ...
I will edit your words as well as I can—with the expertise that comes from years of writing and editing—and I will be kind. I appreciate what you have gone through to produce those precious words, and I understand what a leap of faith it is to entrust them to the critical eye of a stranger. If you're ready, I'm ready!
Joyce Gram
Surrey, British Columbia
Canada
Reference:
Natalie Goldberg, Writing Down the Bones: Freeing the Writer Within. Boston: Shambhala Publications, Inc., 1986.